Daniel McCauley's Mini Coil: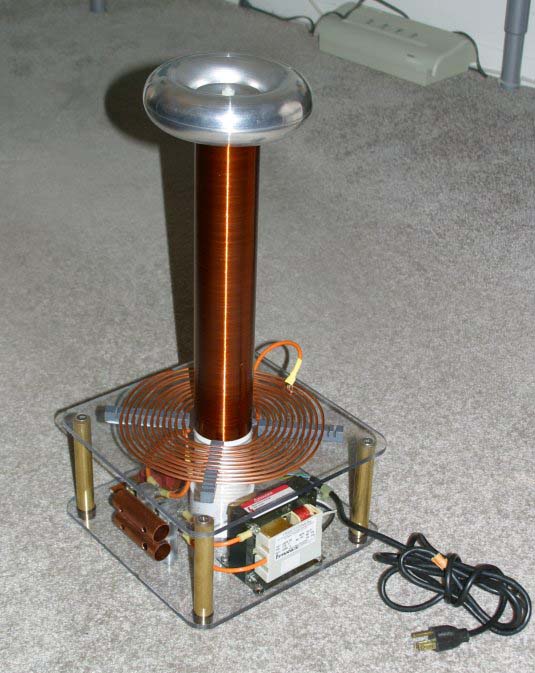 Note - Photo does not show latest top load configuration.

Daniel McCauley

Cinnaminson, NJ

liche@
snip.net

Franceformer Model 4020SE 4kV/20mA

Category 1

NST secondary short circuit current - 38mA

NST secondary voltage - 4kV

0.0122uF MMC capacitor

Primary (12 AWG solid wire)

Secondary 2" PVC coil form (2.375" O.D.)

30AWG, Winding Length 12", H/D Aspect Ratio 5.05

1.625" x 6" Aluminum Spun Toroid - 6.66pF

Has passed 5 minute conditioning run.

Longest recorded discharge is 9.00 inches

Future plans include increasing size of toroid and size of capacitor to

increase streamer length.

Website Link: http://www.spacecatlighting.com/teslacoil4.htm
---
Update March 16, 2003
Increased tank capacitor to 0.0244 uF, changed top load to a foil-covered skid cushion (same as Gary Lau's), approx. 3" high by 6" diameter. Re-tapped primary coil at 7 turns.
Maximum spark length is now 12".